Sea Cadets Go Canoe Paddling
Sea Cadets Go Canoe Paddling With Scotty
by Reid Tokeshi
This story originally appeared in the August 2017 issue of the Great Life Hawaii magazine.
[photo credit: Carol Ann Van Natten]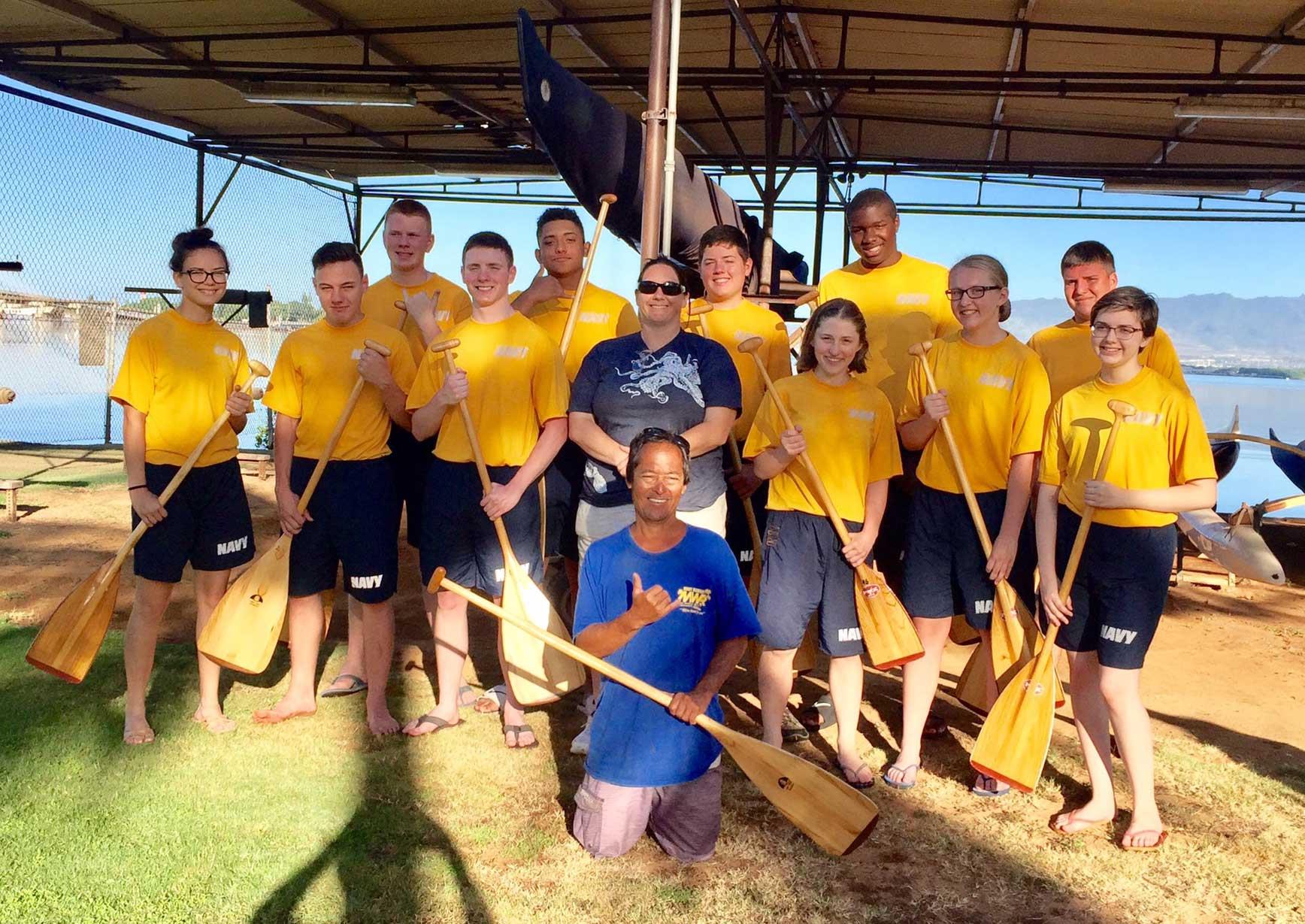 LT. Erik Booher, a staff officer at COMPACFLT, volunteers as XO of the Hawaii division of the U.S. Naval Sea Cadet Corps. This summer, he wanted to give the cadets a different experience as part of their morning physical workout. He found one unique to Hawaii, thanks to his wife. She works at the Catlin School Age Care center and her leadership took the employees outrigger canoeing. "After she told me how much fun it was – in addition to being a solid workout – I knew I had to try it," says Booher. He decided to introduce it to the cadets.
The Corps include youth ages 13 to 18 years with most of the nearly 60 teens having no experience canoeing. Booher says the MWR crew at Rainbow Bay Marina was very helpful, and canoeing instructor Scotty Hee in particular made the whole exercise a huge success. "He's a really friendly, outgoing yet humble guy."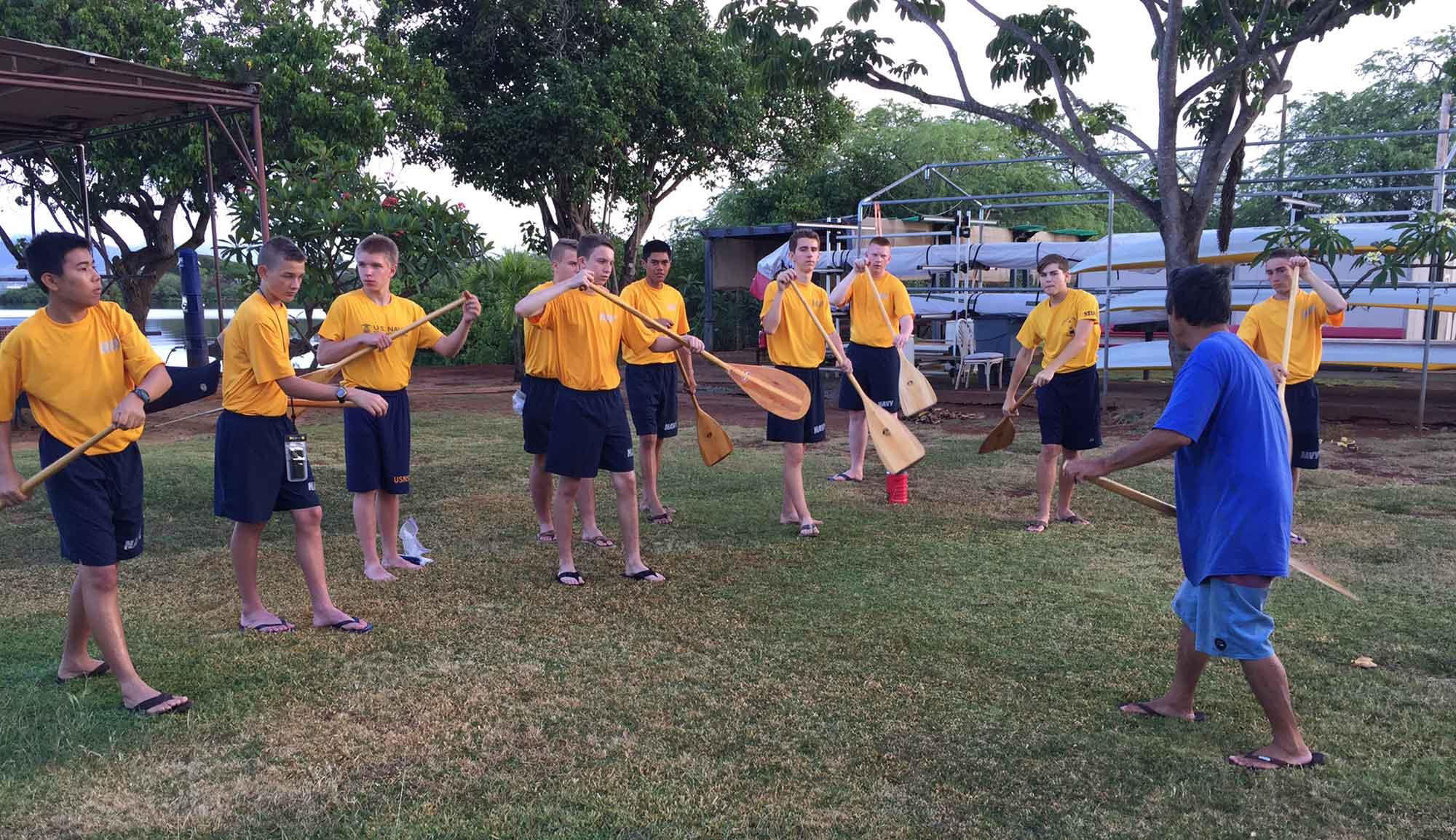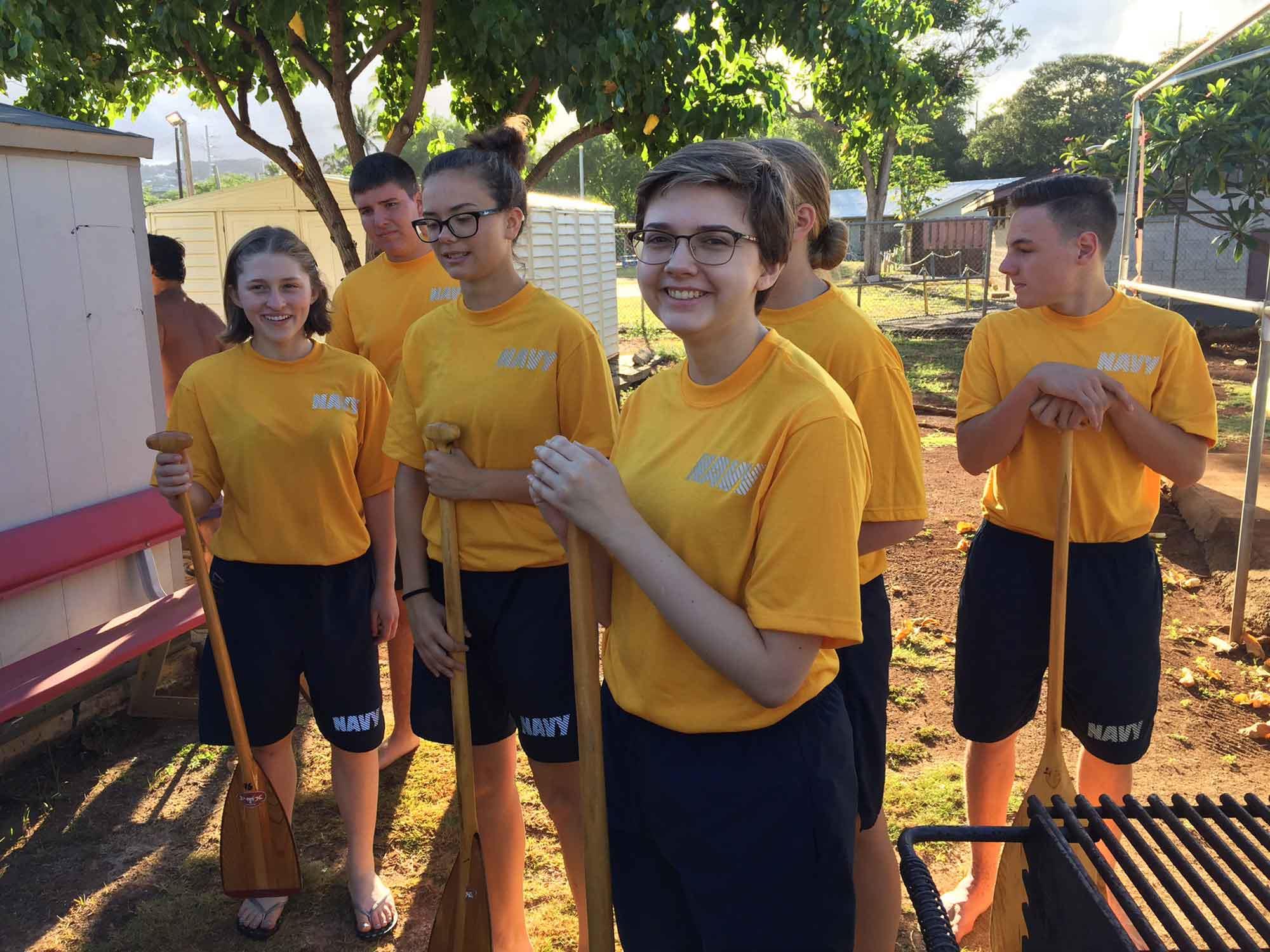 Scotty, an instructor at the marina for five years, met them every morning, issuing paddles and giving quick lessons on proper stroke, body positioning and transitions. He made canoeing accessible and understandable, yet challenging, providing gentle corrections along the way. The teens learned that canoe paddling requires teamwork. Booher says the cadets, and all youth, benefit from learning this at an early age. "When paddling, you can feel if any one member of the team is out of synch, and you can feel what happens if someone is pulling too strong or not enough and the whole team has to adjust."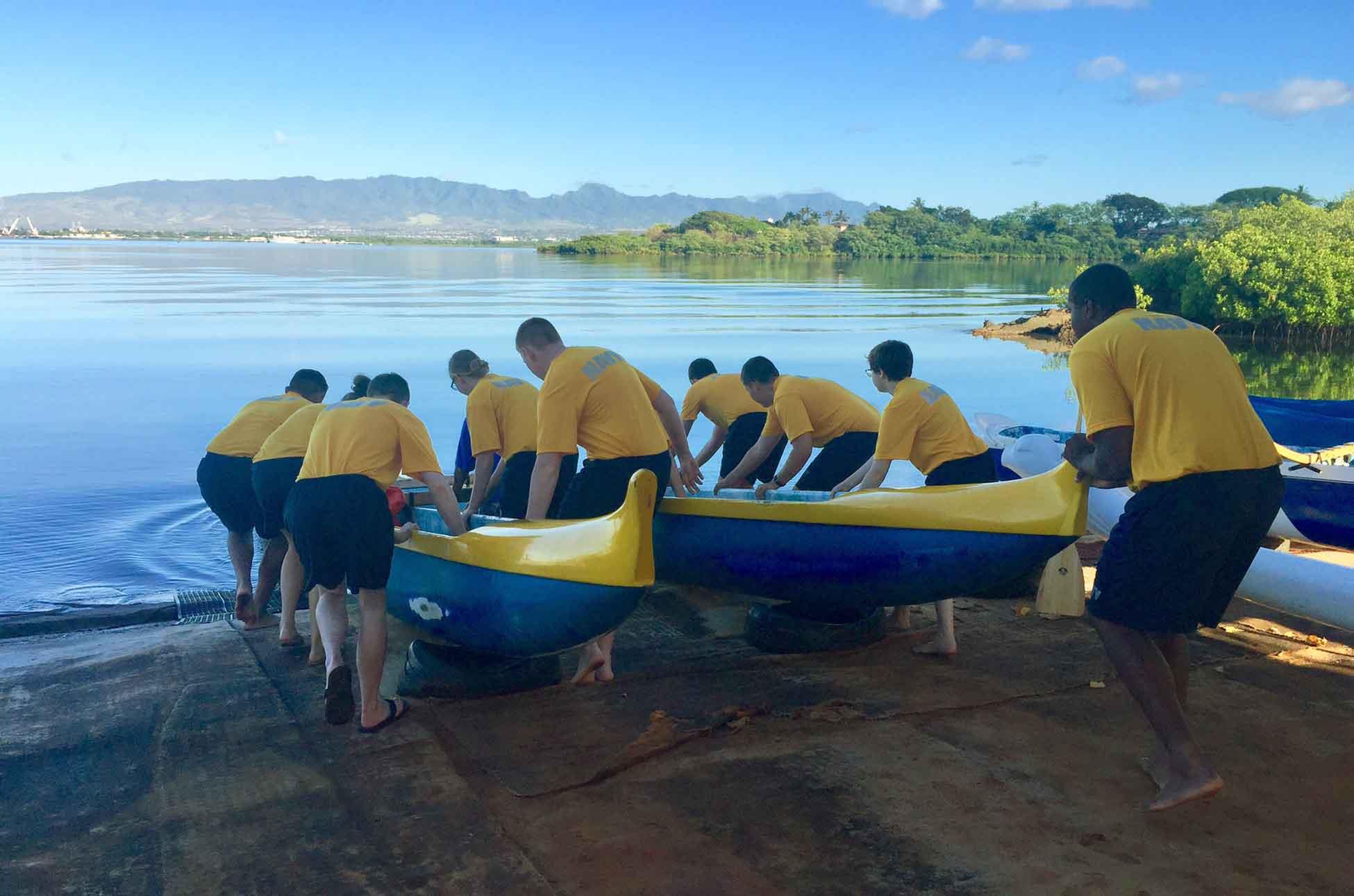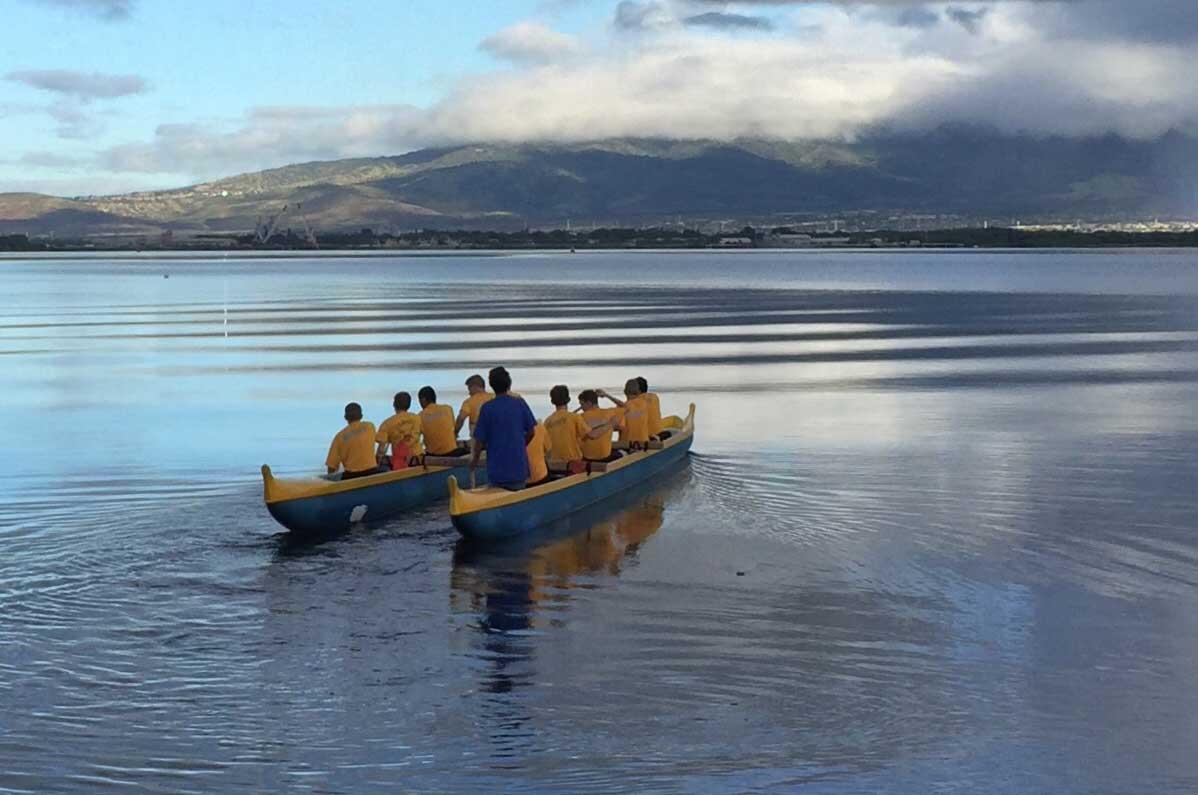 "Some kids, in the beginning you could tell they weren't into it, not really getting involved," says Scotty. "But in canoe paddling it takes everybody. You can't be the guy who's not going to do anything. So they learned how to work together." As they got better through practice, they began to enjoy it.
Booher says the cadets loved Scotty and shared how much they enjoyed doing something different for their exercise routine. Scotty's response simply is, "The main thing is to try to make all our customers happy."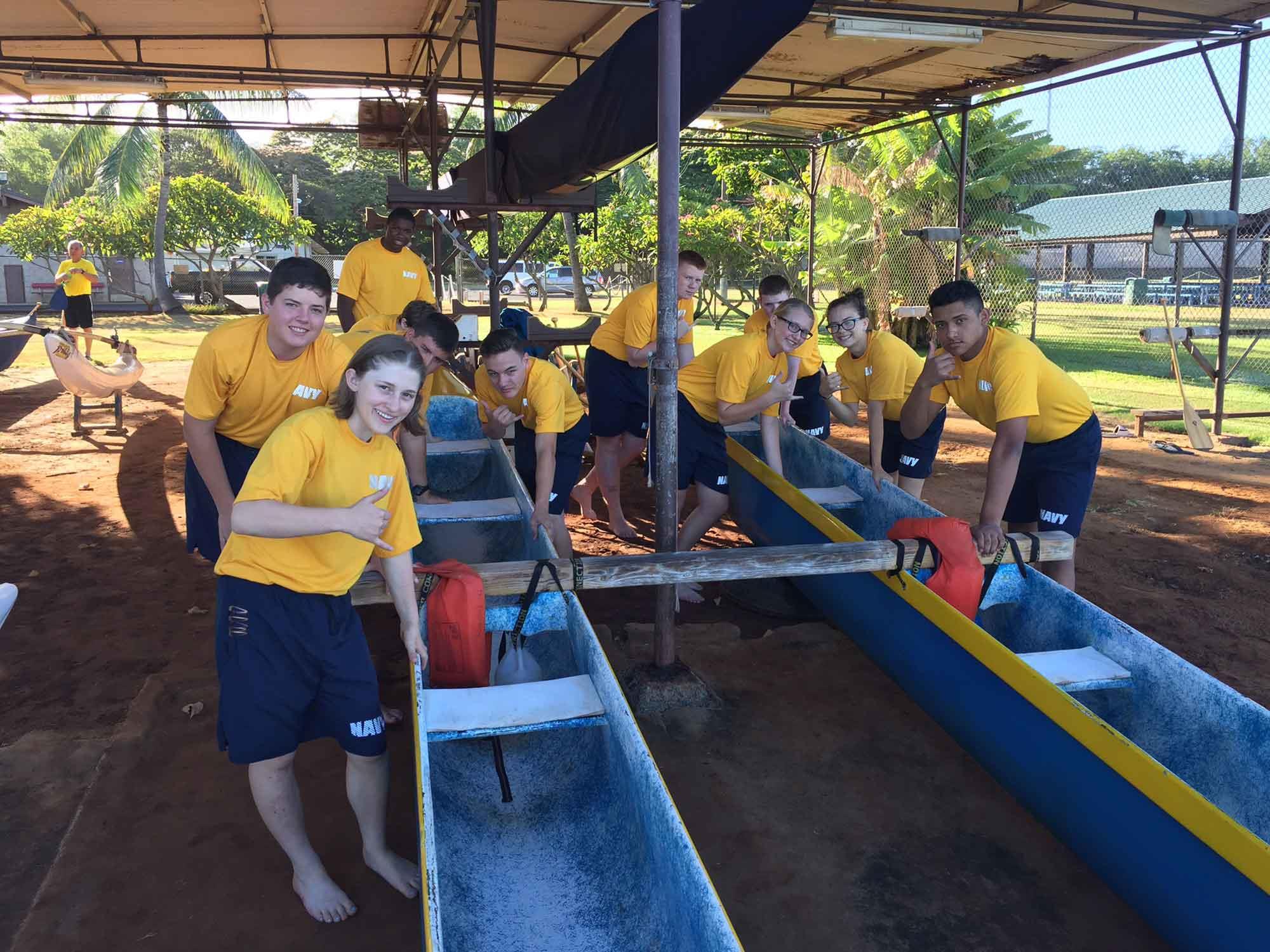 Scotty enjoys introducing military customers to what many regard as Hawaii's sport. "It's our culture, and our customers come here and want to experience it, and their kids too. That's pretty neat, I think it's cool." He says some customers even join local canoe clubs and tell him they never would have known about it if not for this. Booher adds, "It doesn't hurt that we're doing something that most non-DoD civilians will never have the opportunity to do: paddling canoes in Pearl Harbor, watching the sun rise over Ford Island. It is absolutely exhilarating and motivational."
Canoeing is a full-body workout, involving legs, back and core muscles in addition to arms and shoulders. It can be an intense exercise, or just a fun outdoor activity. MWR has options that make it accessible to everyone, via regularly scheduled Recreational Canoe Paddling and P.T. training. Private group sessions can also be arranged outside of the listed times.
"If you want a fun team activity that really 'pulls' people together, this is it," says Booher. "You don't have to be super in shape, just willing to put forth the effort. The reward is a great workout in an amazing place with a great coach."