BEACH COTTAGES AT PMRF
COVID UPDATE (29 Sep)
Hours of Operation
Monday through Friday: 8:30 a.m. – 5 p.m., Saturday, Sunday: 10 a.m. – 3 p.m.
Amid the rapidly evolving novel coronavirus/ COVID-19 situation, we at Navy Getaways wanted to update you on our new reservation policies. This difficult decision was made in accordance with CDC and Navy guidelines and measures established by state and local authorities. While our resort adjusts to the changing demands, our response to your inquiries and reservation requests may be delayed. You may call us directly at 808-335-4752, please leave a voicemail if we are not immediately available and we will promptly return your call.
Official Travel, Local and Insterisland Reservations – Please contact us for information about official travel reservations.
Mainland or International Reservations – Not available for booking at this time. Please monitor our website for updates as to when we will reopen to out of state travelers.
All reservations are subject to change or cancellation in response to the novel coronavirus/ COVID-19 situation, your patience and understanding is appreciated.
The beautiful isle of Kauai boasts many of the most pristine beaches in the world with warm sand and heavenly waves. Escape to paradise with a relaxing stay at our beach cottages located at PMRF Barking Sands. Dubbed the Garden Isle because of its luxurious foliage.
Kauai offers a dramatic change from the buzz of Oahu. The Pacific Missile Range Facility is located on the west side of the island and is an installation of Navy Region Hawaii. Let MWR Travel Connections help you plan your escape to this beautiful island. Discounted tickets for fun activities also available at all Tickets & Travel offices.
Address
Bldg. 1293
Nohili Road
Barking Sands, HI 96752
Phone
808-335-4752
Reservations Website
www.dodlodging.net
Email
pmrfcottages.fct@navy.mil
Hours of Operation (reservations)
Monday through Friday: 8:30am-5pm
Saturday, Sunday and Holidays: 10am-3pm
You can book your cottage stay by calling the Reservations office at 808-335-4752.
Bookings can be done online at www.dodlodging.net and select the Navy Getaways tab, then select Barking Sands Beach Cottages PMRF in the Location menu.
Inquiries can be made at pmrfcottages.fct@navy.mil
After Hours, Cottage packets will be picked up at the Housing Gate Pass & ID Office.

Housing Gate Pass & ID Office:
Monday through Friday: 5pm-Midnight
Saturday, Sunday: 3pm-Midnight
Most Federal Holidays: 3pm-Midnight
After midnight, the gate guard will notify a Security duty person to give the customer their packet.
Directions to PMRF Barking Sand Beach Cottages from Lihue Airport
1. Lihue Airport
Start out going southwest on Mokulele Loop, turn left onto Ahukini Rd./Hl-570.
2. At 2nd stoplight, turn left onto Kuhio Hwy/HJ-56 S.
3. Kuhio Hwy/Hl-56 becomes Hl-50 W. Kaumualii Hwy.
4. Turn left at the 30 mile marker (sign "Pacific Missile Range Facility").
You have reached your destination.
Check-in at the Community Recreation Center, Bldg 1293, 1st building on your right once on base. Check-in time is 2pm.
If arriving after hours, your packet will be waiting for you at the gate with the guards.
Let them know you are checking in and they will have your packet waiting for you.
Office hours are Mon-Fri 8:30am-5pm, Sat/Sun Federal Holidays 10am-2pm.
You can download the instructions here.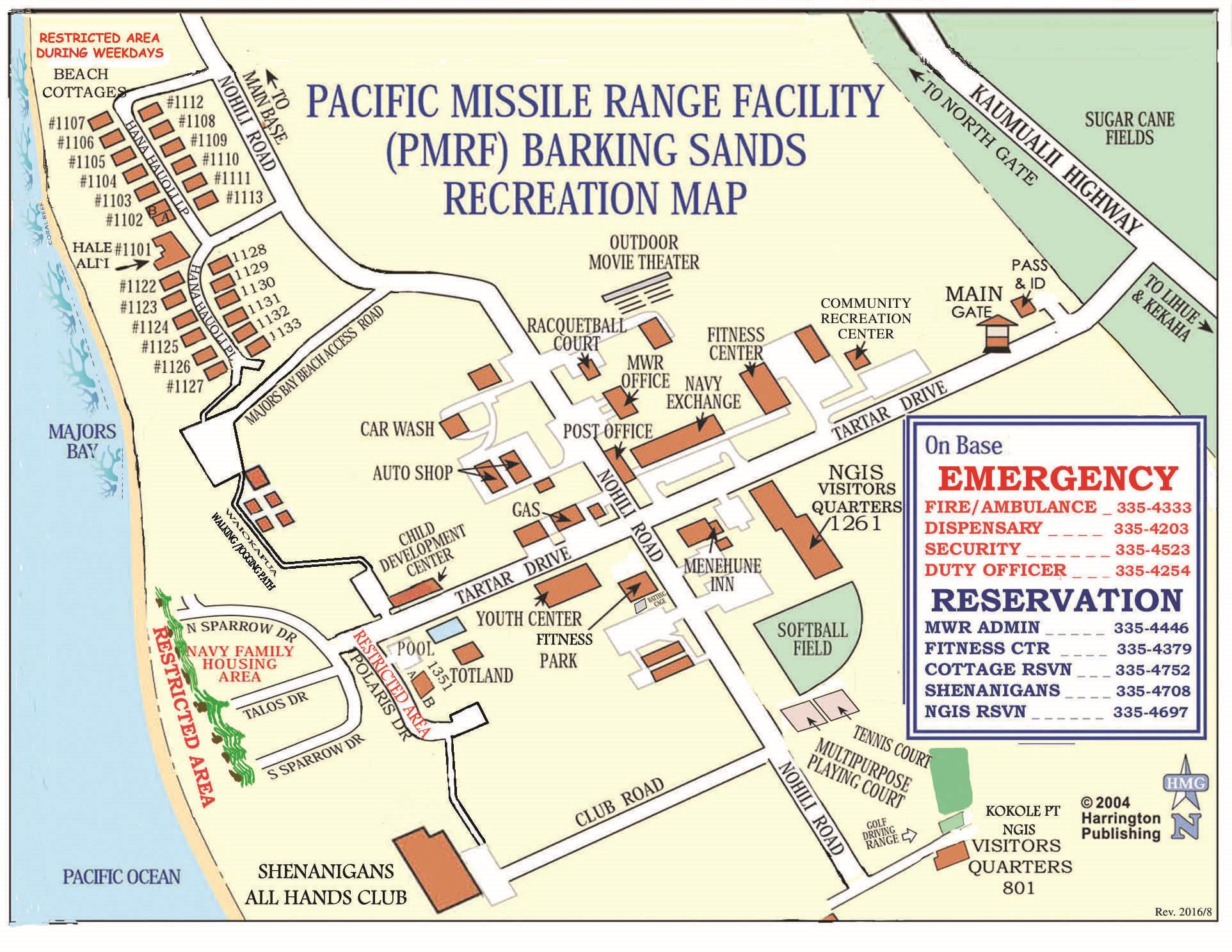 You can also download the cottage/base map here.